Shooting Sports
Light Rifle  (HS Boys & Girls and JH Boys & Girls)
The NHSRA has held shooting competitions for both Junior High and High School Divisions since 2007.  Contestants from every state and province qualify for the events at their state/provincial level and the top 4 contestants from each state or province can compete at the National Finals.  Contestants qualify at the state/provincial level to compete on the National Level.  Light rifle shots are 12 shots at prone, 12 shots sitting and 12 shots standing per round.
Trap Shooting  (HS Boys & Girls)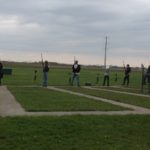 Trap Shooting is open to boys and girls in 9-12 grade.  The completion is 5 position trap shooting from an automatic thrower.  Competitors shoot 25 clays per round.  Competitors can compete in both .22 Caliber (Smallbore) Rifle Competitions as well as a Trap Shooting event.